Thermal Combustion Equipment - TNV
ENETEX thermal combustion equipment guarantees - thanks to its advanced technical solutions - fulfilment of the most demanding emission limits with efficiency exceeding 99, 9%. An important characteristic point is high universality of use. Under temperatures usually reaching 700 - 800°C the organic pollutants oxidise to2O and CO2. Then, the oxidation temperature may reach up 1200°C for liquidation of pollutants with higher demands on temperature.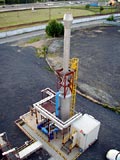 Characteristics of thermal combustion systems ENETEX:
High cleaning efficiency (> 99, 9%)

High utility efficiency in operation process

Efficient use of waste heat

Above-standard service life

Automatic operation

Simple servicing and maintenance

Compact construction form

Special version for degases with pre-set zone of explosion risk "0" or "1"
Parameters:
Compact version with integrated heat exchanger

Version with combustion chamber and additional exchangers

Combustion chamber with ceramic, heat-resistant filling

Possibility of using various sources of additional power

Possible combination with various dust filters, desulphurisation, deNOx, etc.

Non-stop operation